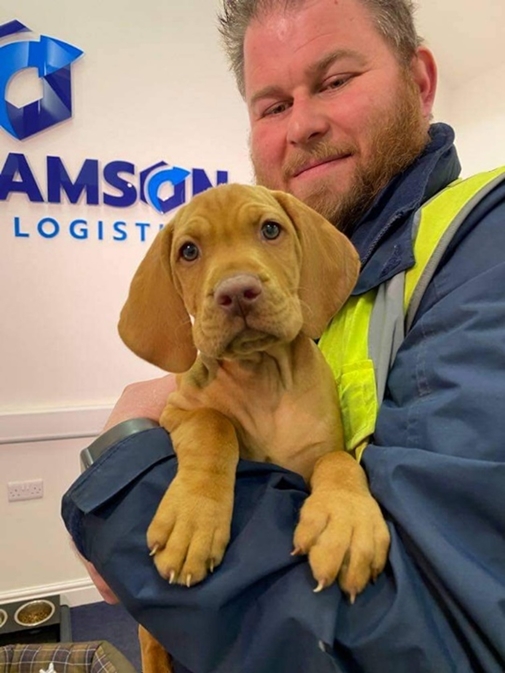 What an absolute delight it has been to have Woody join our team here at Williamson Global Logistics. Born in December 2020, he has been with us, by our side in the office, from the time we got him.
He's a Hungarian Vizsla, loves being with people and is extremely active – keeping us all fit and healthy with regular walks around the farm here in Swarkestone, Derbyshire. Vizsla means "tracker" in Hungarian; rest assured, he will be at our side as we carefully track your deliveries and collections – on the road, sea and in the air.
Since his arrival he's been a welcome and positive distraction for our hard-working logistics team at the company. He's brought a little ray of sunshine to all staff and visitors. He particularly likes meeting customers and greets them with a little bum wiggle and kisses.
Having a dog in the office also encourages us all to take breaks from the desk and screen (something very few of us don't do enough of these days). It has led to increased productivity and improved well-being.
The Woody Effect - Record Figures at start of 2021
Woody has also brought luck with him this year. 2021 has started with record figures for Williamsons Global Logistics' air cargo services, express couriers and road haulage services in the UK. We have averaged 3 new accounts a week, over 30 new customers across a wide range of sectors since the beginning of the year. The future is looking bright, and helped by our new mascot, Woody, there is a really positive vibe at Williamson Global Logistics.